A favourite Spanish idiom that originated in Malaga is the phrase "you are more lost than the rice boat" and while few people know its origin it refers to ships that carried provisions during the Civil War.
Historians credit the saying to the Optic, an 80-metre steamship that left the Harland & Wolf shipyard in Belfast in 1885 and was used as a ferry between Belfast and Liverpool.
The Optic was sold to the Sociedad Anónima de Navegación y Industria of Barcelona in 1907 and put into service transporting cargo between Cadiz and the Canary Islands.
Now renamed the Delfin and sold once more, this time to the Trasmediterránea Company in 1917, the ship sailed various routes between the Balearics and the Spanish mainland before the coup d'etat of 1936 that started the Spanish Civil War.
Moored in the Port of Malaga at the outbreak of hostilities the Delfin was briefly used as a prison before returning to service as a transport vessel carrying rice between Valencia, Alicante, Cartagena and Malaga.
While delivering provisions to the Republican resistance in January of 1937 the Delfin was attacked by Italian torpedo carrying aircraft off the coast of Torrox.
Following the attack and its position now known by the Italian Air Force, the captain was ordered to get the ship as close to shore as possible so that the precious rice cargo could be salvaged by locals.
Having survived the initial attack, the Delfin was purposely run aground just off the beach at La Herradura but was later attacked again, this time by the Italian submarine Ciro Menotti who launched a torpedo at the stricken ship.
Now for all intents and purposes a sitting duck, German and Italian aircraft bombed the crippled ship on February 2nd leaving it a just another wreck in the Mediterranean Sea.
Long before the sinking of the Delfin occurred, the people of Malaga were told by the governing authorities that a ship caring much-needed food was on its way from Valencia.
With not much to do and very little to eat people started going to the Port where they waited for the arrival of the ship that would hopefully save them from famine.
The promised "rice boat" never arrived, of course but did give birth to the Spanish idiom "you are more lost than the rice boat."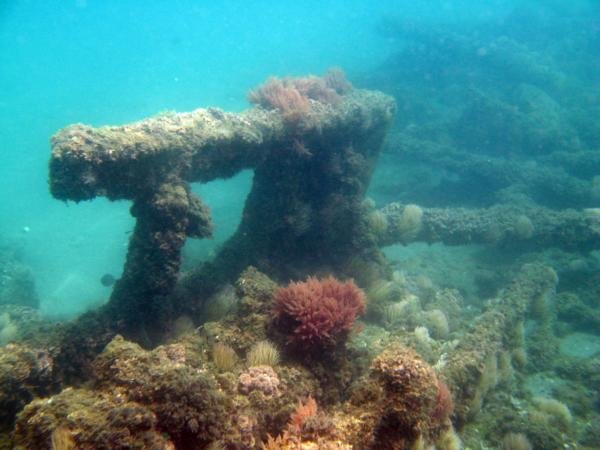 Due to its sinking in shallow water, the wreck of the Delfin is today a popular site for divers and is just one of at least 57 wrecks around Malaga some of which date back to the Phoenicians.
In recent years more work has gone into documenting the many wrecks around Malaga and the hope is with the help of the local museum these wrecks can be excavated and their finds put on display for the public to see.
Top of Form
Bottom of Form