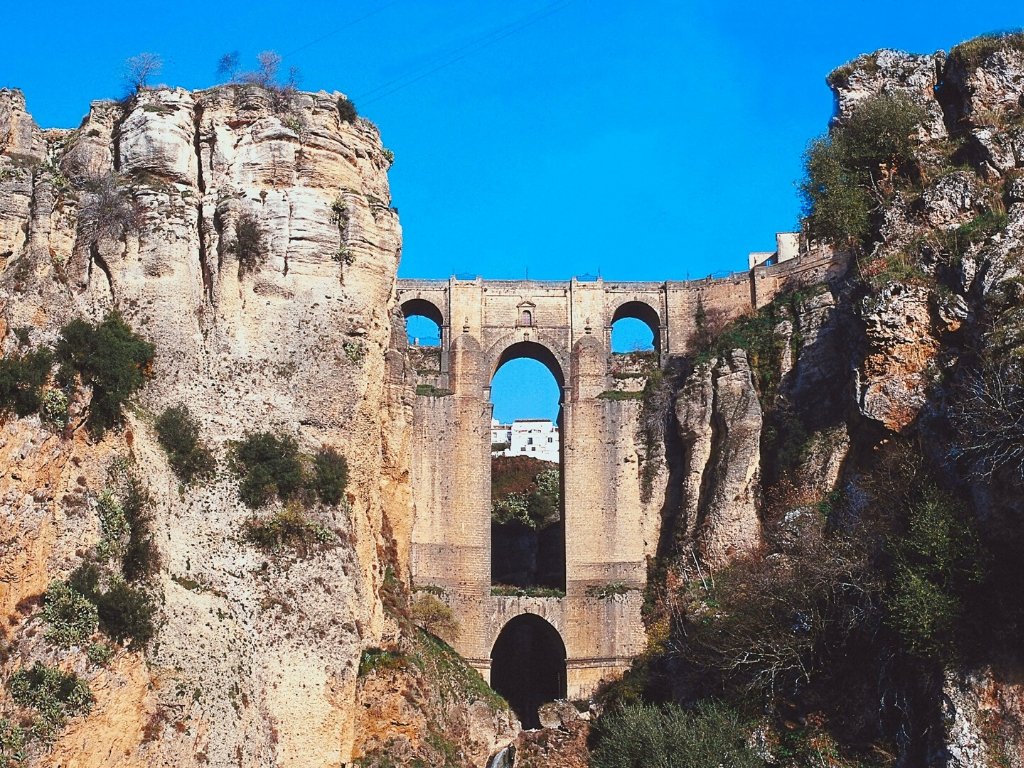 Steeped in history dating back to the Romans  Andalucía's largest white town sits proudly El Tajo gorge a huge cut in the mountains shaped by the Río Guadalevín. Hugely popular with tourists and a very doable day trip from the resorts on the Costa del Sol Ronda is a comparatively small town that can be explored on foot.
Other than the Puente Nuevo (New Bridge) and the Bullring, Ronda does not have any must-see sights or famous museums, yet is special in a way you can only appreciate if you see it for yourself.
American author Ernest Hemingway spent his summers in Ronda as did Hollywood actor and director Orson Wells both aficionados of the uniquely Spanish tradition of Bullfighting.
In fact, Wells loved Ronda so much he is buried on a friend's private family estate and is famous for saying: "A man does not belong to the place he was born in, but to the place he chooses to die."
To fall in love with Ronda you need to stay overnight in the town as once the tourist buses leave and the wrought iron street lamps light up the narrow streets it's a magical place that you will remember forever.
Puente Nuevo
Completed after 40years of construction in 1793 the Puente Nuevo (New Bridge) has made Ronda the third most-visited town in southern Spain. Spanning the El Tajo gorge 120 metres above the rocky floor, the bridge offers amazing views and is best photographed from the Parador Hotel or Cuenca gardens.
Bullring
Known as the home of modern bullfighting, it was in Ronda where local bullfighter Francisco Romero first battled bulls on foot rather than on horseback setting a precedent for the bullfighting we see today. Already banned in some parts of Spain and now probably just a matter of time before it is gone altogether, a trip to Ronda's 18th-century bullring and museum allows you to learn about the sport and its famous matadors.
Arab Baths
Once a popular Ronda attraction the Moorish Arab baths are unfortunately closed due to the torrential storms of late 2018. Now awash with mud the ruins will have to undergo a large scale rebuilding before they can be open again to the public.
Bandits Museum
The only museum of its kind in Spain the Ronda bandit's museum pays tribute to the local highwayman who preyed on wealthy visitors throughout the 19th century. These bandits were such a problem for the authorities that a special Guardia Civil unit was formed in order to wipe them out.
Restaurants and bars in Ronda
Like most places in Andalucia, you get a free tapa along with each drink so it's easy to fill up on food while out and about exploring the town. The touristy places in the Plaza de España tend to be overpriced so make a detour for the new part of town where you can not only experience traditional Andalucían tapas but a three-course menu del dia for between 10€-15€. If you feel like splurging head to Bodega San Francisco in the southern part of town and try the rabo de toro a slow-cooked bull tail stew cooked in red wine.
Where to stay in Ronda
One thing that Ronda has in abundance is hotels and guest houses all offering competitively-priced accommodation. If you are travelling on a budget, good 2-star pensións like the Hotel Royal and Hostal Ronda Sol are clean, safe and reasonably priced. For a little more luxury, staying at the Hotel Montelirio with its stunning views of the gorge will be a treat to remember.
For more useful information see the Ronda Official Tourism website – http://www.turismoderonda.es/en/basic-information/services-catalog/tourism/tourist-office